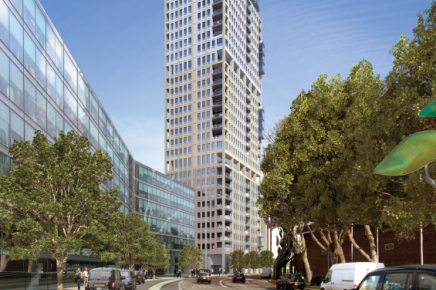 Project: Angel Lane (London)
Stratford Central – London – Angel Lane
Client: Telford Homes Plc
Architect: STOCKWOOL LLP
Located in the heart of Stratford Central and only minutes from the international financial Centre's of Canary Wharf and within the bustling multicultural and sporting Centre of Stratford and its Olympic legacy Stratford Central is set to become a landmark building in this area.
The construction is a reinforced concrete frame, with the following cladding treatment's:
In the ground floor will comprise of frameless glass assemblies with internal feature fins that are approx. 6 meters high. The main body of the façade is made up of precast concrete panels with insert aluminum windows fitted into preformed openings and installed at the Pre cast production facilities.
Level 1 – 27 are constructed of traditional curtain walling with insert windows/doors fitted on site.
The upper floors levels 28-31 are a fully unitised façade with design challenging curves and bolt on balconies.
The approx. area of façade is broken down as follows:
2.000 m2 of windows;
2.000 m2 of doors;
1.000 m2 of curtain walling;
600 m2 of frameless glass;
30 no. bolt on balconies.