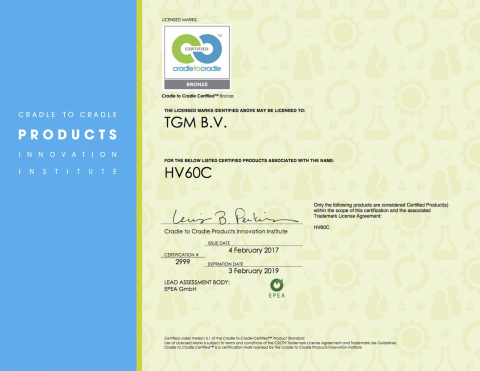 HV60 – C2C creates a sustainable future!
The HV60 – C2C of TGM will become the only Cradle to Cradle certified curtail wall system! This curtain wall system creates harmony between the three P's (People, Planet & Prosperity). Soon the product features of this system will be enriched with the Cradle to Cradle certification, which is the benchmark for a reusable and fully recyclable material. This durable innovation is contributing to a better world, cleaner environment and protection of natural resources.
The certification criteria of Cradle to Cradle consist of following themes:
health of the materials in the intended use;
recycling, potential and stimulation of the construction materials;
energy consumption in the production process;
social responsibility in the production process.
C2C certified HV60 curtain wall system
By offering a raw material passport this product will serve as a resource bank. As result this product will be closely related to the actions regarding environmental policy which has been carried out during the last 15 years. For instance, in the context of supply chain management and eco-design, with the aim of obtaining the insights of enclosed materials with a renewable character. HV60 – C2C façade system anticipates to a shortage of raw materials, already in  an early stage of production process, and makes sustainable and economic investments profitable, excluded the product function.
TGM Works exclusively with FSC®– and PEFC certified timber, which is derived from responsibly managed forests. The implemented water system protects the timber on the rebate sides from being exposed to humidity, herewith increases the quality of the façade, significantly. Furthermore bears the HV60 the DUBO-mark, due to the minimum environmental impact, both in the production and in the (re) use process.
The HV60 – C2C façade system is applicable to any kind of buildings, from residential to commercial. Despite its slender profile, the 60 mm timber framework offers amazing strength and allows extremely large spans. This durable, and attractive hybrid façade appears with the warm look-and-feel of timber on the inside and the durability and low maintenance of aluminium on the outside. The exterior of HV60 – C2C can be finished with various, C2C certified materials, for instance: powder coatings, stainless steel, timber or (semi-) structural glazing.
Would you like to find out more about the Cradle to Cradle certification of HV60 – C2C curtain wall system? Do not hesitate to contact Patrick Hancock at the phone number: 0044 (0) 2087 890 177, or by e-mail: p.hancock@tgm-facades.co.uk.
FSC® C128720