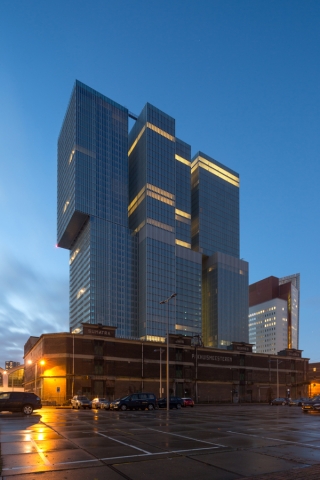 De Rotterdam completed
The final façade elements of the high-rise housing block 'De Rotterdam' have now been installed, proving that the choices that TGM made five years ago were the right ones.
TGM was approached by property developer De Rotterdam CV in the preliminary phase to contribute ideas in the construction team for a technically and financially feasible façade for the residential project De Rotterdam. We interpreted the set performance requirements creatively, and made a number of changes in the façade to drastically reduce the price per m2without compromising the desired aesthetic quality.
The project has now been completed to the client's absolute satisfaction, and we look on the end of the long De Rotterdam project with mixed feelings:
on the one hand exceedingly proud that we at TGM completed this tremendous challenge within the predefined technical, financial, and scheduling constraints, but on the other hand sorry to see the many years of intensive and fruitful partnership in the project come to an end. We would have been very happy to continue working with the people of the project team, with whom we developed a wonderful relationship over the years.
Challenge us
We love the challenge of making any project technically and financially feasible in the way only our specific knowledge and added value can, by being a part of your project from design to completion.